After long await it is finally here. I have followed this one for a while but have been remiss in my postings. This is a new velomobile by the good people that bring us the Quest. So here it is... just a bit smaller. Instead of hearing me rant, I have posted the specs and the features below.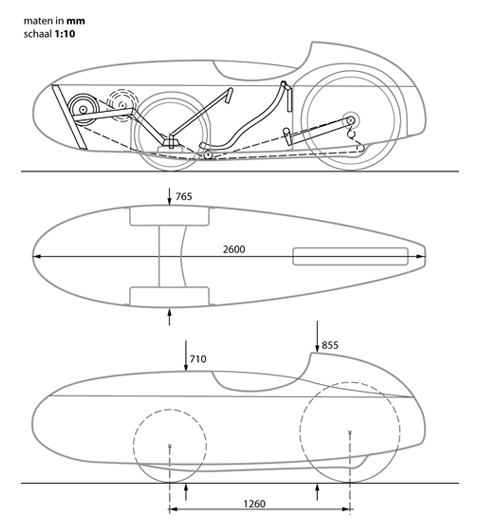 The QuestXS costs € 5950 (€ 5000 ex VAT)
The QuestXS comes ready-to-ride, including light system, bike copmuter, bell, air pump, spare tyre and tyre repair set.
Technical specifications
Length
2,6 m
Width
0,765 m
Height
0,855 m
Weight
31 kg ready-to-ride, including battery (white body)
Turning Circle
12 m (depending on front tyre size)
Seat Angle
35 - 40º (adjustable)
Colour (*)
white, yellow, orange, red, blue, green and black
Electrical Equipment

B&M Lumotec IQ Cyo (adjustable from inside)

daytime running light with low power consumption in front

Spanninga LED and breaking light in rear

B&M NiMH 4,5 Ah 6V battery/B&M battery charger, dashboard light

- on request

turning signal lights (8x luxeon 1W LED) (€175)

Rear Sprockets

Sram 9v 11/12/13/14/16/18/21/24/28
all available shimano (compatible) 9v sprockets are possible

Derailleurs
Front Shimano Tiagra, Rear Sram X9
Shifters
Sram Grip shift X9
Brakes

SA Aluminium 70mm drum brakes (single-side mounted)
on request: SA Aluminium 90mm drum brakes (€25)

Tyres

front: Schwalbe Kojak 35-406
rear: Schwalbe Kojak 50-559

Spokes

front: Sapim 163 mm strong butted 13/14 RVS 36pc a wheel (90 mm drums 158 mm)
rear: Sapim 264 mm race butted 14/15/14 36pc/wheel

Rims
KHE Alu Black 36 holes
Mirror

on request: 2nd mirror (€15)
*The QuestXS has a polyester coating sprayed in the moulds while producing the shells. Under the finish there is a black and white layer to make it non-trasparant and even. Because the layers are as thin as possible the colours will not exacly match RAL colours, but yellow comes close to RAL 1023, red RAL 3020, blue RAL 5015, orange RAL 2004, green RAL 6018 end black RAL 9127. Spraying afterward in any carpaint is also possible at extra cost, as from € 750.